By Cornelia Amiri
Cornelia Amiri is the author of five Celtic/Romance novels, Druid Quest, The Fox Prince, The Vixen Princess, Danger Is Sweet, and One Heart One Way, published with Awe-Struck e-books. As well as a Comedy Celtic/Vampire novella, A Fine Cauldron of Fish with Eternal Press. And a Erotic/Celitc/Vampire/Romance story, Vampire Dancer in the Sleeping With the Undead anthology with L & L Dreamspell.
I'm giving away a PDF download or my Paranormal/Comedy/Romance, A Fine Cauldron of Fish. Just comment on this blog post. A winner will be selected at the end of the 30 Days promotion. International entries are fine.
Blurb: It's summer on the Isle of Man an Andrew is looking for hot girls and good times. So when he meets the dreamy and seductive Margaid, he thinks he's hit the jackpot. There are only a couple of minor problems: Margaid lives in a cave under the sea, is invisible, and thinks that only Andrew's blood can save her from turning into a kelpie! But hey, whoever said love was perfect!?
Since I review youtube videos for my Savvy Click, Surf the Net With A View column, I wanted to share two Vampire Family/Thanksgiving videos which put me in the Fangsgiving mood. Yes, youtube has everything.
Vampire Thanksgiving
This is hilarious. It's just a normal Thanksgiving Day in a cemetery. Hey, who doesn't spend Thanksgiving in a cemetery? Did that Gargoyle just wink at my sister?
Vampire Family photos
Mommy vampire and her brood have a fangtastic time getting their family portrait. The middle son seems to be laughing and the baby boy is having a blast.
Mommy vamp is proud of her little blood suckers. I wonder what she's cooking up for her vampire clan this thanksgiving.
And here's a great Fangsgiving Greeting to share with all your myspace, blog, website and e-mail fiends and friends.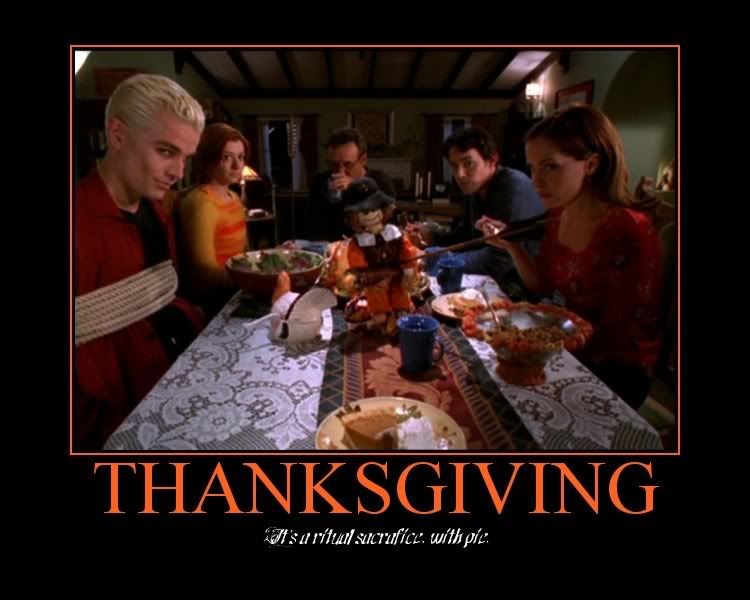 Hey, speaking of vampires at Thanksgiving, what would you do in a look who's coming for dinner scenario, say if your grown daughter brought a vampire home for thanksgiving?
Though I'm not much of a cook, I might switch the pumpkin pie to some Vampire cupcakes courtesy of the recipe on http://tinyurl.com/5mxdjo, and for more traditional fare, click on the link to the right beneath the turkey cake, Celebrate Thanksgiving.
Also, though my story in Sleeping With the Undead is set in Scotland, so no thanksgiving feast, I do have a scene where the hero's mother and father discuss the vampire girl or baobhan sith (baa'-van shee ) their son brought home, which fits in with the vampire/family theme.
Excerpt: Sleeping With the Undead/Vampire Dancer by Cornelia Amiri
Before Ian could get a word in, his father asked Tavish, "Did you set the carin aright?"
"Aye, I put the stone back, good and tight."
"Aye, but now we have a baobhan sith sleeping in our house," his mother said.
"Well, she has to sleep somewhere dear. I dinnae want her draining my cows of their blood though."
"What about your sons' blood?"
"Ooch, well I dinnae want her drinking theirs either."
"Well I'm glad to hear that."
His mother turned and saw Ian and Sorcha. She plastered a big smile across her face. "I did not know you were awake."
"Mom, Sorcha and I are going out. I'm going to show her around the town."
"That's nice," his mom said.
As Ian walked away, he overheard his father say, "You have to be careful of what you say around the baobhan sith. They'll sneak up on you."
"Hush, she can still hear you," his mother said.
Ian turned and waved good night to his mother and father.
"He can show her around all he likes but I dinnae want her near my cows."
That was the last comment Ian heard before he walked out the door. With his arm wrapped around Sorcha's shoulder, he led her down to the winding road.
Happy Fangsgiving to all,
Cornelia Amiri
Order Cornelia's books:
Danger Is Sweet
Druid Quest
One Heart One Way